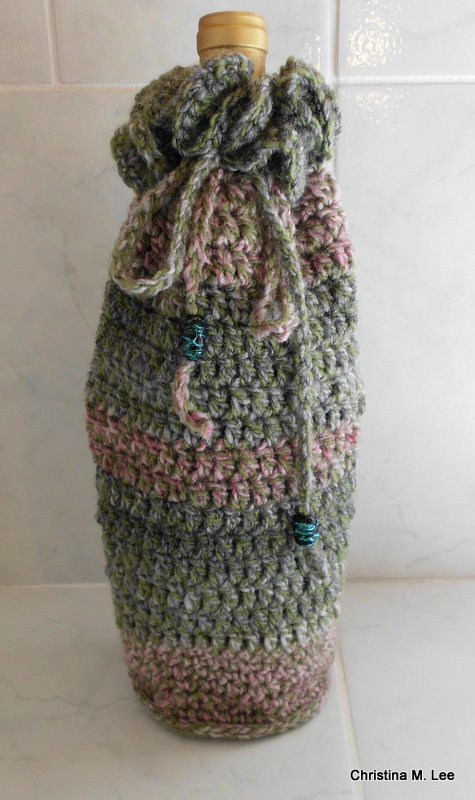 Here is the wine bottle cozy I crocheted for my Mother-in-Law for her birthday.  She loved it.
The Yarn was Red Heart Collage and the color is Landscape Green.
I just love how the greens and pink of the yarn were blended and came out so pretty.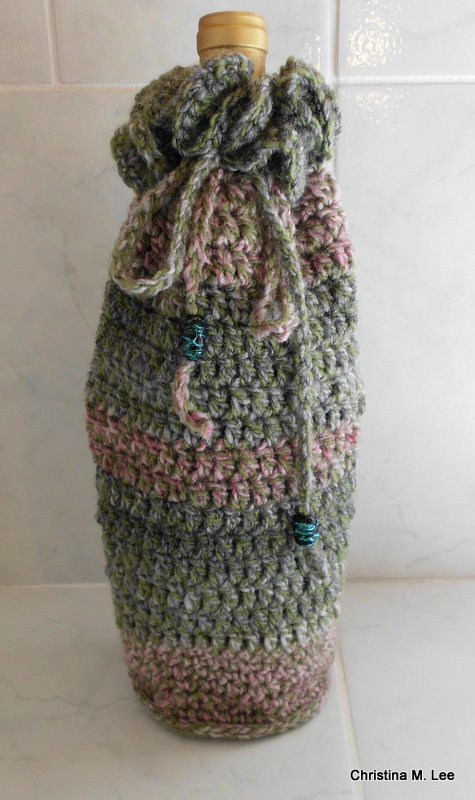 I added the ruffled rows around the top to make it more ruffly after the draw string is pulled.

The two beads on the draw string are two of my lampwork (handmade) glass beads.
I made a few changes. I skipped rows 12 and 13, (the two rows where you add the beads) because I was not adding beads.  I did 6 rows of sc after changing from the bottle bottom and starting up the sides, but that was going too slow, so I changed to dc and crocheted to 9 inches from bottom.  Then switched back to sc for the last 1/2 inch.  For the top edge, after I finished the pattern, I wanted it more ruffly than the pattern called for, so I did one row of sc working 3 sc in each stitch to force it to ruffle and then another row of sc working 2 sc in each stitch, continuing to force it to ruffle.
Then made my draw string and added two of my handmade (lampwork) beads to the ends of the drawstring after I threaded it into the cozy.
Happy crocheting.
To follow my blog, click on the purple diamond on the right hand side of the screen below the links section–>