Time for a new update.  Like I said after vacation we hit the ground running.  Still hold my full time job working for my husband as his paralegal in our law practice.  Catch up there took president over the art studio.  The electrician got all the lights, outlets and ceiling fans working.  Yeah, no more electric cord from my hubby's wood shop!!!  You can see the lights and fan working.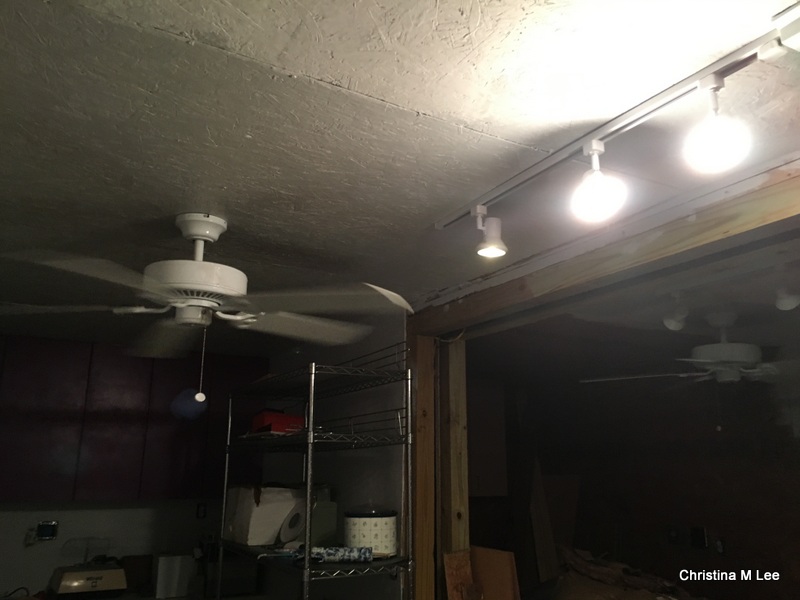 My pics are mostly taken at night, because that is when I get out back to work on the studio.
Below you can see, I got most of the floor painted on the north side of the Studio.
I mentioned before that I have been cleaning out the old art studio upstairs in the house and moving an armload of art supplies at a time down the stairs and piling it to go out.  Figured there had to be a better way to get it all out there besides one armload at a time, so I borrowed my hubby's new wheel barrow.  Brought it to the front door, loaded it full and rolled it out back and unloaded.  Great mode of transportation for moving art supplies out of the house.  LOL

Took the doors off the cabinets on the south side and prepared to start painting the south back corner.

First coat of primer going on the walls on the south side.  These cabinets are smaller than the ones on the north side.

As soon as I get the walls and cabinets painted on this side my hubby will build my counter top.  This is going to be the hot side.  My 4 kilns will go on this side.  2 small table top 110 kilns and 2 large 220 glass fusing and ceramic kilns.
#newartstudio #artstudio #instalike #instagood #picoftheday #dreamcometrue