It has been a crazy busy month.  I haven't posted in quite a while.  So much has happened.
First, we had our house tented for termites.  It is a Florida thing you have to do every few years if you live in Florida.

It was a ton of work to prep for the tenting the whole week before.  We had to double bag up all the food in the pantry, in the fridge and the freezer; all the spices, teas, and coffees, all the box goods, all the medicines in both bathrooms.  We have a very large pantry full of stuff.  The above pic only shows a few bags.  Anything that was not factory sealed had to be double bagged.  Then after getting the house bagged up we had to leave for two and a half days.  So we took our laptops and a bunch of files and went to a Motel and worked.  We had 4 days back home trying to un-bag all that stuff and put it away after the tenting.  What a mess we had to undo, and of course keep working at our day job, our law practice, and pack for our trip.  We did not get the un-bagging finished before leaving, so we took off and still left a mess in the house.  Such is life sometimes.
Then it was off to South Carolina to our see our Daughter and Son-in-Love to spend Mother's Day.  Yay, time for some fun and a much-needed short break.
Above is a pic of my beautiful baby girl, Beckie, and I having fun, our first Mother's Day together in 20 years!

Above is Beckie and Richard's lovely wooded 3 1/2 acres in South Carolina.  Such a wonderful place they have, out in the country.
On Saturday the day before Mother's day, we went to Cooley Farms, Strawberry Hills, which was just a few miles up the road from the kids house.  Oh my, what yummy stuff they had there.
Love this shirt, just had to click a pic of it.

We bought some strawberries and fresh produce, some peach cider and blueberry bread.  Beckie cooked the fresh veggies for dinner and we drank the cider, it was sooo good.  Munched on the blueberry bread for a couple of days.
See the big buckets of Strawberries (above), they were having a special, buy 1 bucket, get 1 free.  They were literally fresh picked from the farm.  People were lining up waiting for the tractors to bring the fresh berries in from the strawberry fields on the rolling hills.  They were soooo very yummy!!!

Then we made jam on Saturday evening.  Beckie did most of the work, I helped.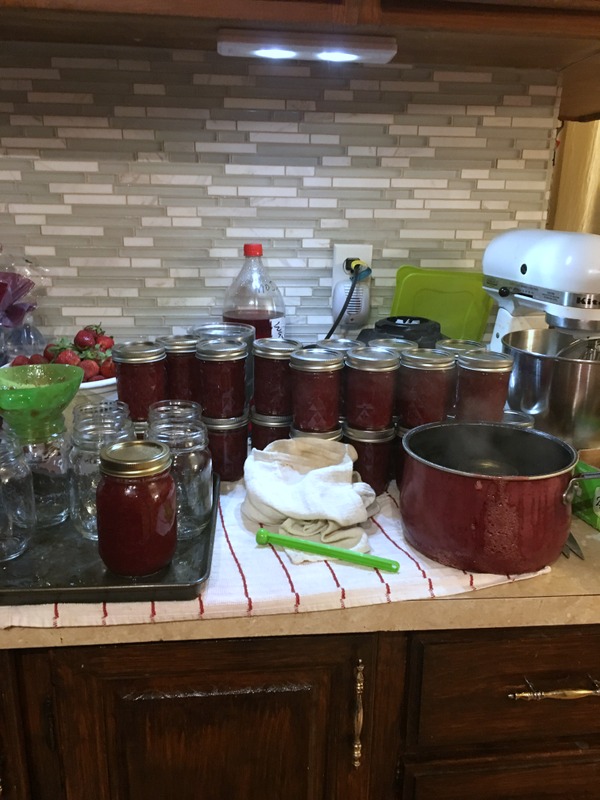 Above, cooked jam going in the jars, below putting the jars in the water bath.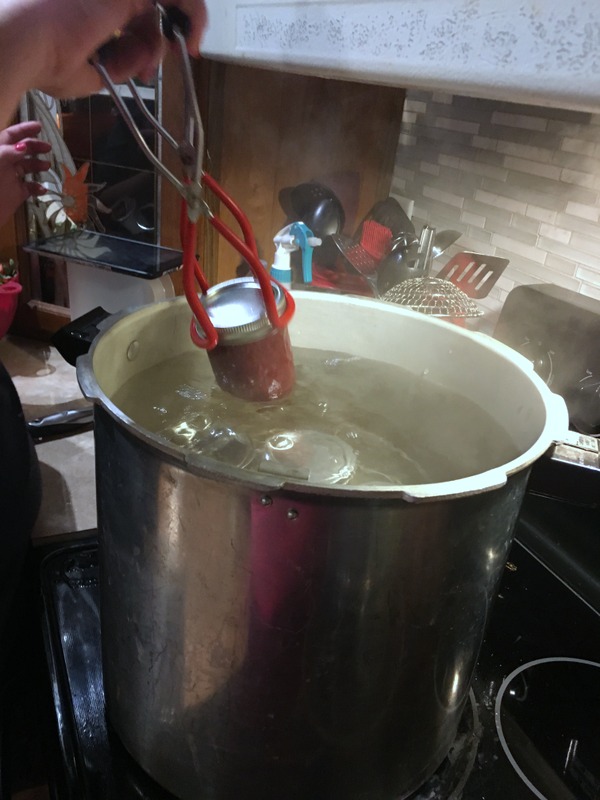 Below the canned strawberry jam.  We had about a full case of jam when we got done.
We got a nice surprise Mother's Day morning.  My wonderful Granddaughters sent my Daughter and I Shari's Berries for Mother's Day.  Sooo very yummy, and we so enjoyed them!!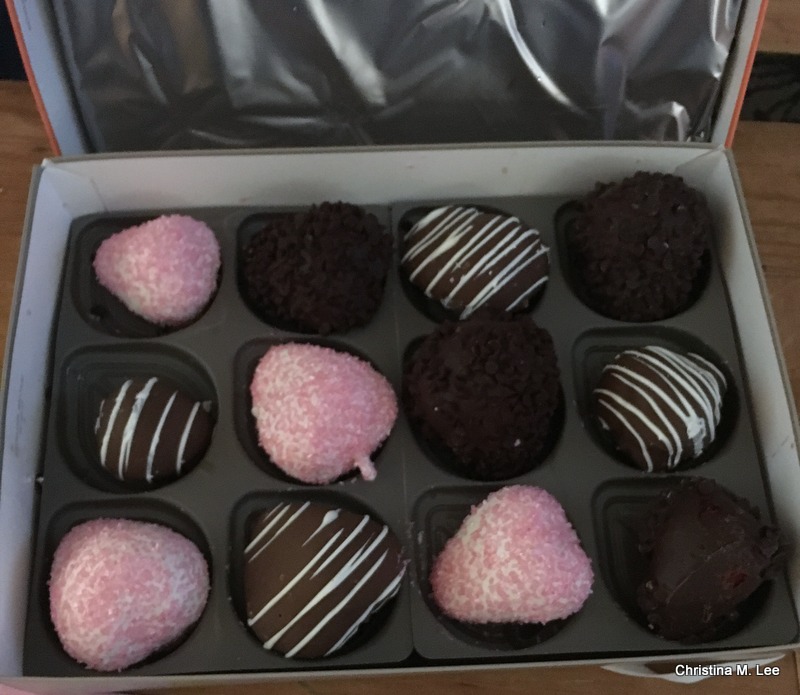 Then we went to Spartanburg, where we picked up my Grandson, Devin, and the 5 of us all headed for Greenville to the Artisphere Art Festival.  It was a beautiful day for it and we walked and walked seeing all the fantastic artists.


Which included the street performers.  Love those socks. 
All in all it was a wonderful extended weekend, but all good things must come to an end and Monday morn we were on the road again for the return trip to Florida.  We drove a different route than normal as we had to stop in Marianna, Florida for a court hearing (our day job, law practice).  On the way to Marianna we went through downtown Atlanta during the evening rush hour, not good at all!!!

The blue tent of my truck window made the sky look a bit bluer.  Two and a half hours later we finally got out of Atlanta.  Oh my, it was awful!!!

 We finally made it to Marianna about 10 pm and found our motel and crashed.  We were very tired to say the least.  My Hubby got up and headed to the Courthouse Tues morn and took care of his Client's legal matter, and came back to the motel to get me.  We were loaded by 11 am and on the road for home.  Arrived home about 8:30 pm to the messy house we had left behind, back to reality and the rest of the un-bagging, the putting stuff back in the pantry, and cleaning the house.  It was a fun trip, but we could have done without the Atlanta traffic.
#Mothersday  #greenville #artisphere #strawberryjam #strawberries #jam #daughter #picoftheday #instalike #instagood #followme #awesome #florida #southcarolina #floridaartist #fiberartist #lampworkbeadartist #jewelrydesignartist #silkpaintingartist #christinamlee #christinamleedesigns #sharisberries #greenville #artisphere #Atlanta #trafficjam #granddaughters