Finally finished all my Fused Glass kitchen cabinet Door and Drawer Pulls.
I started by out laying out and cutting my glass in 1 and 1/2 inch squares.  I actually started these quite some time back in the old art studio upstairs, and finished them in the new art studio.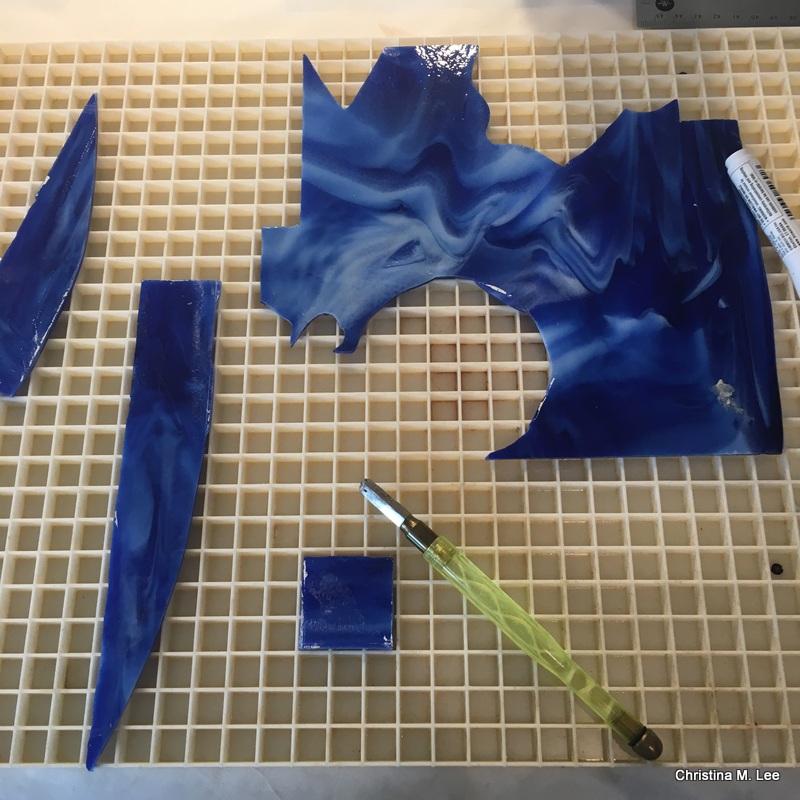 I ground the edges so they were not sharp on my glass grinder.
Here is a group all cut and ready to start placing the diachroic pieces on top.
Then I started laying out the little dichroic pieces of glass and the stringers on top of the blue glass and securing them with a drop of clear craft glue, so they don't move in the kiln as the glass begins to work when firing.
In the top section of the pic above you can see 6 already fused drawer and door pulls.
I fired a total of 47 door and draw pulls.  I needed 45 for my kitchen.  I wanted a couple of extras, just in case one breaks in the future.  Below, another group cleaned, laid out, glued and ready to fire in the kiln.

Below: In the kiln ready to fire.

The two pics below show some of the finished, fired pulls after they came out of the kiln.

Each draw and door pull is a one-of-a-kind original piece of art.

Below is a pic of the backing pieces I purchased especially for mounting on fused glass door and drawer pulls.

Backs epoxied on and ready to mount on the cabinets.

Mounting them on the kitchen cabinets

Here we have some of the hand built Hickory cabinets, built especially for my kitchen by a wonderful friend!!  I had to do his beautiful cabinets justice and make special door and drawer pulls for them.

Below: Close up of a couple of the upper cabinets with pulls mounted.
 
Below: Close up of under Island cabinets with pulls mounted.

I even added a pull to my microwave door.

  Thanks for checking out my blog post.
#christinamleedesigns #christinamlee #leeshorestudio #followme #floridaartist #fusedglassartist #lampworkbeadartist #fiberartist #art #artist #florida #followme #awesome #picoftheday #artstudio #newartstudio #kiln #fineart #awesone